Chill Mini tastaturer for Netflix streaming
You have access to a lot of nice streaming services and you would obviously like to have optimum control of your media center! Here's a guide to some of the different ways of using Netflix with the smart Mini Keyboards from Danish Chill Innovation. 
Sony Playstation 3 / Sony Playstation 4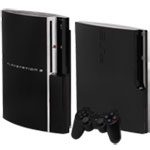 PlayStation 3 and the new Playstation 4 is basically really nice streamer boxes. Both the Netflix, ViaPlay and HBO app can deliver HD picture quality and adjusts image quality to your internet connection (what we call adaptive streaming). The main disadvantage of PlayStation 3 is the high power consumption. It has improved in recent versions, as well as the new Playstation 4, but is still fairly high.

Microsoft Xbox 360
Xbox 360 has its strengths on the streaming front, and Microsoft put in more and more focus on making the Xbox 360 a partial game console and partial streamer box. Just like PlayStation 3, the Xbox 360 is also a power hungry beast, and when running it with your TV, you can expect a higher power bill. Xbox 360 does currently not support Netflix in 1080p, only 720p at highest. The main disadvantage however is that Microsoft only opens for Netflix, when you are a Gold member, which cost extra. On the other hand, you can now also enjoy the new Xbox Music service on cross platforms like the PC, Tablet and Phone.

Nintendo Wii
Nintendo Wii featured in several studies from the United States, as the most used Netflix streamer box. It is also very suitable as a secondary streamer, wherein the image quality is not the highest priority. It should be understood in the sense that the Wii does not support HD content from Netflix, so you have to settle for low-resolution movies and TV series. In turn, Wii is reasonable power saving.


Apple TV
Apple TV has been popular for several purposes, not least because you can stream video, images, music and games from an iPad or iPhone directly on your TV screen via AirPlay. There is a Netflix app in the bo!. Apple TV (1080p version) can deliver the highest possible image quality from Netflix, as it supports both adaptive streaming and the highest mpeg4 profiles, just like the PS3. In return it uses only a fraction of power and is always on stand-by, so it's ready in seconds.
Remote: Apple TV is a closed system, which currently does not support external Keyboards. However, it is possible obtain support for third party tools and/or  with jailbreaking. 
Boxee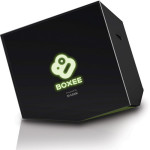 We are sorry that the little crooked Boxee Box does not support Danish Netflix (yet). We write Danish Netflix because Americans do have access. When Netflix is running on Boxee Box it is quite fine with Full HD resolution. Unfortunately, Boxee Box has a relatively high standby consumption, and hence should be turned off when not being used.

WD TV Live
WD TV Live is available in several versions and only the latest has officially Danish Netflix. You must get hold of third version, called either "Hub" or "Streaming". If have it, you have an excellent Netflix box that offers good Netflix image quality, virtually no noise and low power consumption. We also hear that the box can be set to send 1080p24 format out on movies from Netflix.
Smart TV

Do you have a Smart TV from 2010 or 2011? Apparently the TV producers do not think you should have access to Netflix - at least not from the start. Are you on a 2012-2015 model, you are probably more fortunate. Here you can usuallly see Netflix, ViaPlay and HBO directly from the app in the TV. The image quality depends if the Smart TV supports adaptive streaming and the latest MPEG4 profiles. Most recent models do, but some 2011 and almost all 2010-model do not, so then you are better off with a separate media box.
Remote: If your SmartTV has USB Keyboard support, then
Chill KB-1RF Mini Keyboard
can also be used. If your SmartTV has built-in Bluetooth HID support (Human Interface Device), then
Chill KB-1BT Bluetooth Mini Keyboard
can also be used. For incomprehensible reasons, it is far from being all 'Smart TV' having keyboard / mouse support. However it is getting more common from +2012/2013 models onwards... 

Blu-ray Players
The situation of Blu-ray players are very diverse. The story is almost the same as that of Smart TV. Most recent models have access, but past 2011 models are often omitted. The latest Blu-ray players are often quite legally competent streamer boxes that also eats Blu-ray and DVD discs. The best players delivers top image quality from Netflix and support surround. Power consumption is average. An interesting detail is that a few Blu-ray players can actually deliver 1080p24 (1080p resolution at 24 frames per second).
PC/Mac

It is of course possible to stream Netflix, ViaPlay, HBO etc. on a PC with Windows or a Mac with OS X. You stream directly via your Internet browser. A PC or Mac can of course also be connected to your TV and act as a media center (HTPC) and there are many different solutions with different interfaces, power consumption, etc. Also note that media centers can be based on different media center software like XBMC, Plex etc. Every have its strengths and drawbacks, but overall they can do much more than just Netflix and is clearly the ultimate solution.

Smartphone/tablets
It is of course possible to download a Netflix, ViaPlay and HBO app for your smartphone or tablet, whether in the case of Apple, Android or Windows Phone. The quality is good (compared to the relatively small screens) and uses adaptive streaming, so the quality is automatically adjusted to your Internet connection. Be aware, however, that streaming eats battery pretty fast and be careful not to use Netflix on 3G or 4G, if you have data cap on your subscription.
Remote: You can basically use
Chill Micro Keyboard KB-1RF
, if there is a USB port for the dongle.
Chill KB-1BT Bluetooth
can be used with iPad/iPhone and various Android & Windows tablets and smartphones that have built-in Bluetooth (with HID support) - then there is no need for a seperate USB Bluetooth Dongle. Check your equipment and the manufacturer's instructions.
Skriv en Kommentar
Skriv et svar
Blogsøk