Choose the right Bluetooth Beanie Music hat for your needs
Whether you are looking for the best bluetooth beanie on the market or just a cheap Bluetooth music beanie / hat, there are especially two elements you need to take into your considerations when making your choice.
Beanies or hats with built-in wireless headphones are a brilliant new breed of gadgets - In addition to keeping you warm, they also stream your music and phone calls while on the move - all without any cable hassle. Simply by connecting your smartphone (or other Bluetooth player), you can both talk and listen to music while keeping your phone in your pocket. You can even control the music and accept / reject phone calls via a control panel on the side of the beanie.

First point: Design & Materials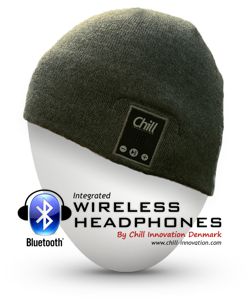 First of all, you obviously have to like the actual design. There are typically many different variations, but especially in terms of material, the cheap Bluetooth music beanies differ from the best beanies available. The cheapest ones are typically made in pure polyester / acrylic. They still both look good and feel good, but they will not be as comfortable, warm and breathable to wear for longer periods. 
The step up from the cheapest bluetooth beanies / hats, often includes an inside layer of fleece to improve comfort further, but it's usually still synthetic.
The absolute best grade winter beanies contain cotton or wool (usually still some acrylic to remain elastic), and are typically also made with double thermal layers. This combination of natural materials and double layers provide the absolute best base for comfort, warmth and breathability.
The price difference between a very cheap hat compared to a better quality beanie might actually not  be more than a few euros, but of course this influence the final price of the product in the end.

Second point: The electronics
If it were not for the built-in electronics, battery and speaker drivers, they were just completely ordinary beanies.
If you are looking for the cheapest Bluetooth music hat compared to the best Bluetooth hat available, the biggest difference is mainly in the electronics, as these represents the majority of the final bluetooth beanie price.
Cheaper Bluetooth Beanies obviously also uses cheaper chipset, speaker drivers and batteries. Besides the differences in audio quality, where especially dynamics and bass response are somewhat lacking in the very cheap beanies, the batteries are often of very questionable quality too. Many Bluetooth beanies are more or less "no-name", so one cannot expect too much effort spend on battery and audio quality, especially if they meant be cheap.
For the same reason the battery operating time and even lifespan are typically limited in the very cheap Bluetooth hats compared to the better beanies out there.
More renowned brands typically uses significantly better A-grade batteries and also tend to focus more on optimizing audio quality - and reducing weight and electronics size!. Reducing both the size and weight of the electronics, means more expensive and advanced tech. Ergo volume and weight of the electronics are typically lower in the more recognized brands compared to the cheaper "no-name" brands too.
Of course it is a balancing act, since few will spend too much on a Bluetooth music hat / beanie. With a good quality beanie, a good modern Bluetooth chipset, a good A-grade Li-Poly battery and good speaker drivers - you can actually get surprisingly much comfort and sound for around €30-50,- these days. A good traditional beanie with no built-in headphones from a major brand, can easily cost the same as a good Bluetooth Beanie, since margins are traditionally lower in the Home Electronics industry compared to the fashion industry.
Since you can actually remove the electronics / headset from most Bluetooth Beanies (for washing purpose), one can here kill two birds with one stone - as you get will both a traditional beanie hat plus the ability of enjoying music and telephony without any cable hassle.

Chill Innovation A/S is a Scandinavian brand who optimizes design, electronics, batteries and speaker units etc. to provide Bluetooth Music Beanies and other gadgets in the higher range at very competitive prices. Read more about the concept here!
Leave a Comment
Leave a Reply
Blog Søgning