Chill PowerBank - USB Battery Pack for charging all your gadgets!
With a Chill USB PowerBank you always have power to go!
Danish Chill Innovation has just launched a brand new range of portable external USB batteries in exquisite designs.
With these new portable USB chargers, you always have plenty of power anywhere anytime you need it - Power2Go!. They can easily charge your iPhone / iPad, Android and Windows Phone devices and various tablet computers etc. The new Chill Power Banks can also charge and operate other types of devices that can be charged / powered through a USB port - It could be your GPS, Bluetooth speakers and other battery-powered mini speakers, digital camera, video camera, game consoles like Sony PSP, Bluetooth Headset, Chill Mini Keyboard, etc.
Most smartphones and portable gadgets today have limited battery capacity, but it is no longer neccesary to always plan your power consumption minutely and constantly scouting for power outlets. Just bring your Chill PowerBank on your journey, the train, the plane, on the beach, the boat, at work, at the festival, on your holiday etc.

Cheap USB PowerBanks have poor durability and fake rated capacity
The new PowerBank from Chill comes in several stylish and compact designs and with various battery capacity (mAh) for every need and budget.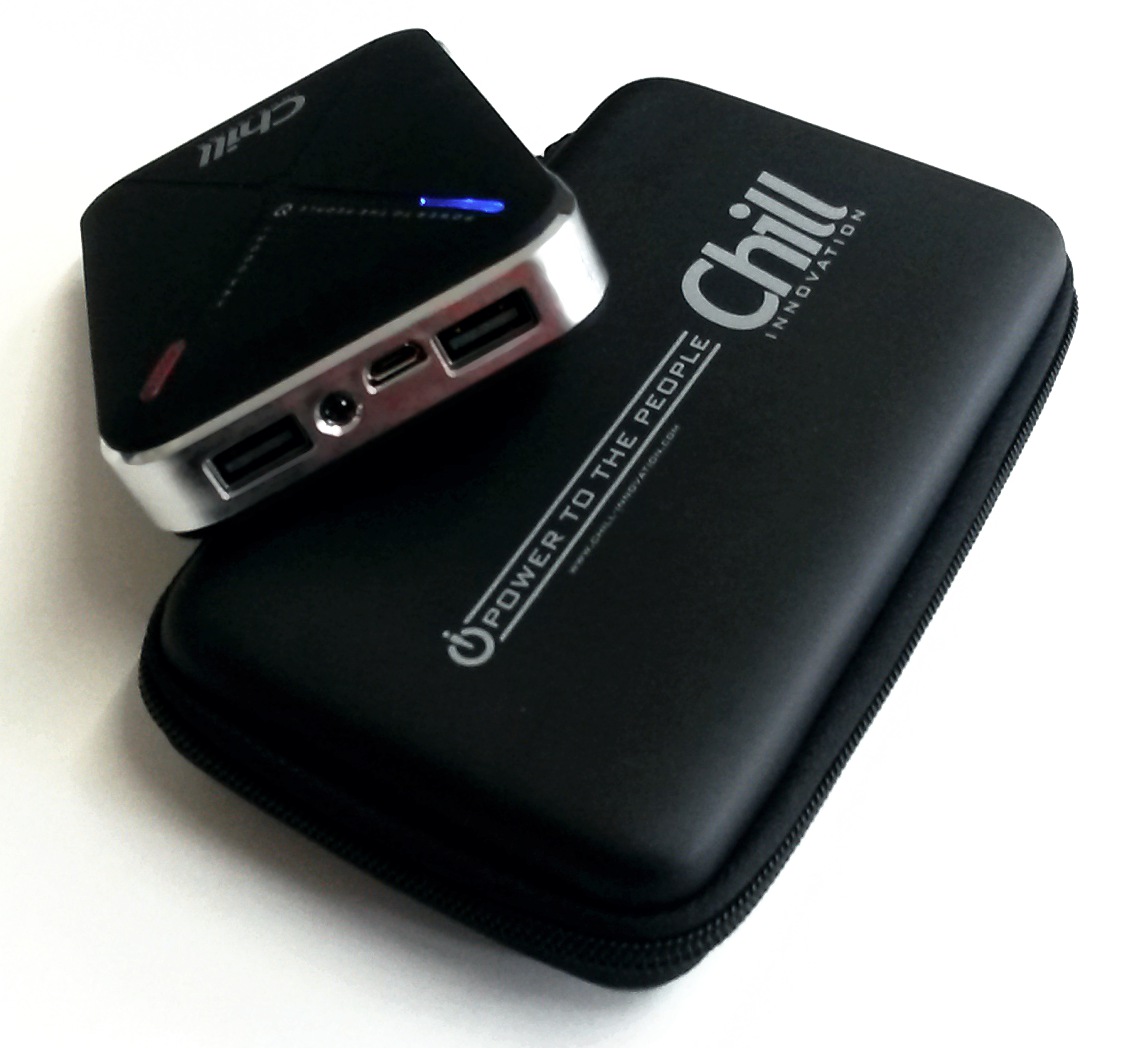 The absolute most important feature of a Power Bank is obviously the battery cells inside, but this is also the most expensive part. So this is also here manufacturers cut down costs to sell cheap. 
It is incredibly easy for a manufacturer to use cheap second hand cells and 2nd sorting cells - throw them into a stunning design and then call it 10000mAh, though they are maybe 6000mAh only - and even at such low quality that they degrade further after only a few times of use. It's so easy to fake rate, so if there is not a recognized manufacturer behind, then the "cheap" PowerBank quickly becomes the most expensive in the long run...

A-Grade Lithium-ion / Li-Polymer Cells
All Powerbank models from Chill Innovation is designed for durability and to provide the specified capacity charge after charge. They are exclusively equipped with handpicked A-grade Lithium-ion / Li-Polymer cells from top batterey manufactures such as Samsung / BAK / TPC / LG etc.
This also means that the Chill Power Bank has the best performance vs. size / weight ratio, simply because they use the latest and best cells on the market. If you encounter other USB Power Banks with the same or even higher mAh rating with a physically smaller and lighter designs than ours, then your alarm bells should start ringing! Capacity, dimensions and weight are linked together, so a little fancy Power Bank with a relatively high capacity is most probably fake rated.
Besides the uncompromised battery cells in Chill PowerBanks you will also find the most advanced micro-chip based circuit. This means that the power transfer efficiency is more than 85-90% (very low energy / capacity loss.). Typically other generic Power Banks operate around 60-80% efficiency, so a fairly large proportion of the total battery capacity is lost during the transfer process to the connected USB device (iPhone / iPad etc).
Secondly, Chill has also included a Power Management System which ensure near zero procent self discharge, so the precious capacity actually stays inside your Chill USB Power Bank even if it is not being used for longer periods. With most generic USB batteries the power will gradually leak, so you always end up with a nearly depleted battery when you finally need it.


New external mobile USB batteries
All USB battery models have min. 1A (Ampere) Output, which is twice as much / fast as normal USB ports in a PC. Usually the bigger models feature 2x USB outputs, and one with 2.1A output for power hungry devices like iPad / tablet PCs.
All models comes with a Micro-USB cable for charging the Powerbank itself as well as other Micro-USB devices. Addtionally you can just use your various regular charging cables, including Apple cables. You ca also use your existing USB Chargers for the PowerBank, so not need to bring tons on chargers and cables on the move.
Leave a Comment
Leave a Reply
Blog Søgning