Wireless Bluetooth headphones Beanies
Prepare for an extra fun winter with the new Bluetooth Beanie Hats in modern Danish design. These are not ordinary beanies, because inside the comfortable thermal layers you will find some interesting new technology.

Beanies with built-in wireless Bluetooth headphones
These new headwear from Danish Chill Innovation A/S are equipped with wireless Bluetooth headphones / headset, so you can now play music through your Smartphone etc. without any kind of wires, huge visible headphones or annoying earplugs constantly falling out.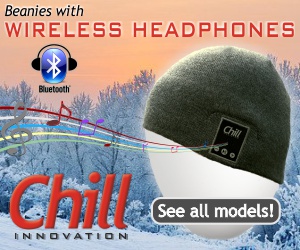 The Chill Bluetooth Beanies even have built-in headset function with microphone for hands-free telephony. With the small controlpanel in the beanie, you can not only answering phone calls, but also control the music and volume - all without removing your phone from your pocket or bag. In fact, you even get voice guidance in various situations.
The wireless stereo headphone speakers inside the Chill Bluetooth hats are equipped with 30mm diaphragms and Neodymium magnets of high quality. They provide very good dynamic range as well as very low weight. So the beanies will not really feel much different to wear compared with regular beanies / hats.
The Chill Bluetooth Beanies also have a built-in rechargeable Li-Polymer battery which offer up to 8-10 hours of non-stop music and chatting. The compact Bluetooth based design features up to 24 Mbit/s of bandwidth, so you can actually stream music in very high sound quality, comparable with even more expensive traditional headphones.

Chill Bluetooth Beanies made for Scandinavian weather conditions
The electronics inside the Chill headwear are IP55 certified and thereby tolerates both rain, snow, sweat and even down to minus 20°C winter temperatures. Depending on the model, you can also use them for sports such as running, cycling, skiing and other outdoor activities.
The speakers can be removed if you wish to use the headwear as a regular baenie or wash them. The Chill beanies come in several different modern unisex designs, colors and materials.